It's been sunny and gorgeous here in Germany, but all I see across my social media sites is everyone begging for some sunshine. In the interest of Springtime, Summer, gorgeous photos and ideallyic travel locations, Amy is our Saturday feature this week.
How many of you out there know our lovely Amy, from Creatrice Mondial? She is a designer and amazingly talented at that. Her photos will blow you away as will the many people she has come across through her travels around the globe. And even more exciting?? She's currently living stateside, but all that will change later this year when she becomes New Zealand's newest expatriate!
Prepare yourself for the beauty you're about to see….
♥ 
Top 6 Best Mediterranean Views
We all dream of a Mediterranean vacation. The sun-kissed coast gently touched by a salty breeze and that crystal clear blue water… it truly just doesn't get any better. There are many spectacular places to choose from for this dream holiday. Here, I will share with you six of the very best Mediterranean views, based upon my personal experience. In no particular order.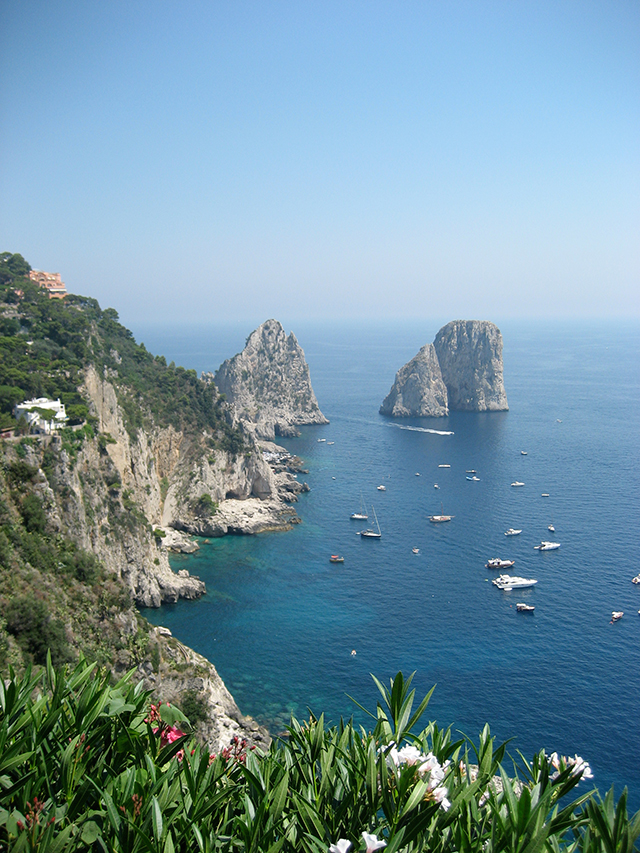 1. Capri, Italy
Ahh… Capri. With the fresh sea air keeping you cool as you sip on the famous limoncello… you could spend an infinite amount of time on this little island just across the water from the southern town of Sorrento. Main attractions include both the Green and Blue Grottos by sea, and the town of Anacapri by land. This tiny commune is located at the top of the hill, although it is more like a mountain to flat-landers. The views, such as the one pictured above, make the effort worthwhile. But don't worry – you don't have to huff and puff your way up to the tippy top. There's also a bus and a funicular rail that runs between Anacapri and Capri, the main port town on the sea. Helpful after you've indulged maybe a little too much on the limoncello.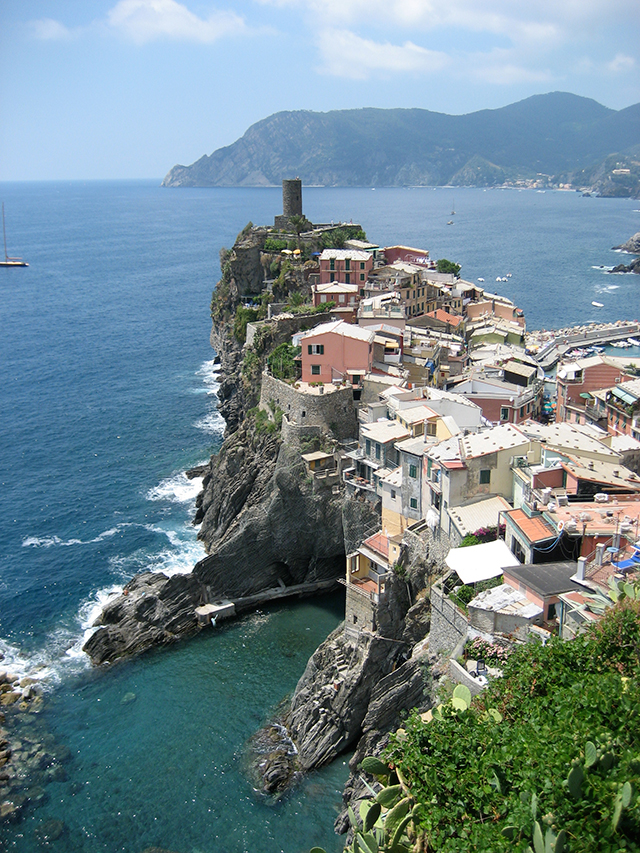 2. Cinque Terre, Italy
Everyone has seen a version of this photo before. In fact, you may have already seen it here if you read myadventures hiking Cinque Terre. This is the town of Vernazza, one of the five villages on the Italian Riviera that make up Cinque Terre, or Five Lands. Really any view from the rugged hike that hugs the coastline between these villages belongs on this list. Vernazza was my very favorite though, and it's easy to see why. Combine that view with the perfectly sunny day we had for our hike and it's amazing we aren't still camped out there today, eyes glues towards the sea. The towns of Cinque Terre are easily reached by train, being located not far from Pisa. And if you don't fancy a hike (although I strongly recommend you opt for this method) there is a train the connects the five towns that runs regularly throughout the day.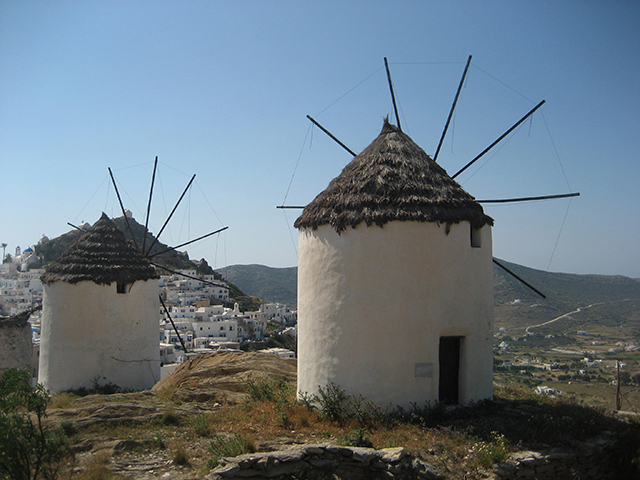 3. Ios, Greece
The Greek islands are famous for their white-washed buildings with beautiful blue roofs and accents. There's no denying the mixture of sun, sea, landscape and architecture blend to give this region of the Mediterranean its own unique appeal. The island of Ios, among others, is also famous for its windmills, such as the ones pictured above. Ios is quite mountainous, and the windmills perch on top of hills in a prime location to catch those sea breezes as they whip across the island. I have no idea if they still work, but they have a particular charm sitting there, facing the sea. I stopped by this island during my spam-email Greek island sailing trip, when we spent 10 days sailing around, island hopping until we were all convinced we could live that life forever.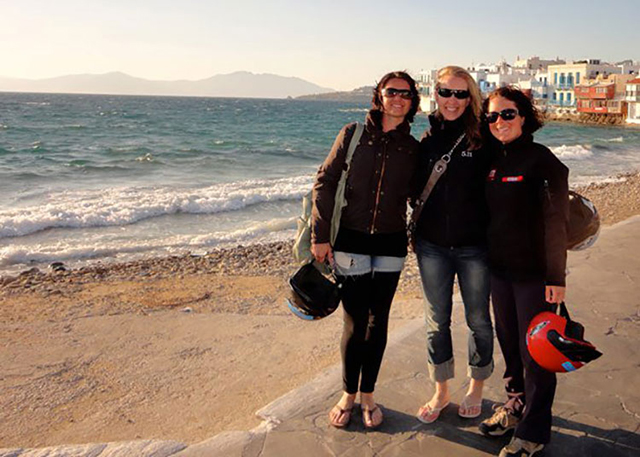 4. Mykonos, Greece
Oh Mykonos… what a crazy wench you are!! But you are good lookin', so you're forgiven for being a bit rowdy by night. The party reputation of this island precedes itself, but it would be a mistake to dismiss it as purely a hedonistic paradise (although that description does fit). While my stories from our stay in Mykonos is reminiscent of "Hotel California." it is a beautiful place. It really wouldn't be so bad to check in and never leave. The sea was a bit wild due to weather conditions the previous day, but it suited the place. The best activity by far, besides renting four-wheelers and driving all over the island, was enjoying a crisp glass of wine at sunset on one of those balconies pictured above. Gorgeous.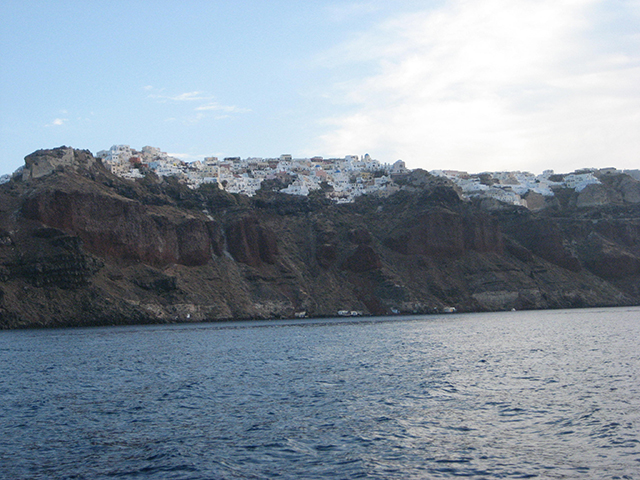 5. Santorini, Greece
This is not your typical viewpoint of perhaps the most famous island in Greece. But that's because I wasn't viewing the town in the typical way – we were arriving by sailboat, after a sunrise sail from Ios that morning. So instead of the views from the city looking down onto the water, we had the advantage of looking up. It is so impressive how they built the entire town into the cliffside. We were sailing into the caldera, which is actually a result of volcanic activity. It is formed when land collapses following a volcanic eruption, and thus the land here was reclaimed by the sea. In spite of its violent origins, it was really quite peaceful. And, of course, afforded stunning views.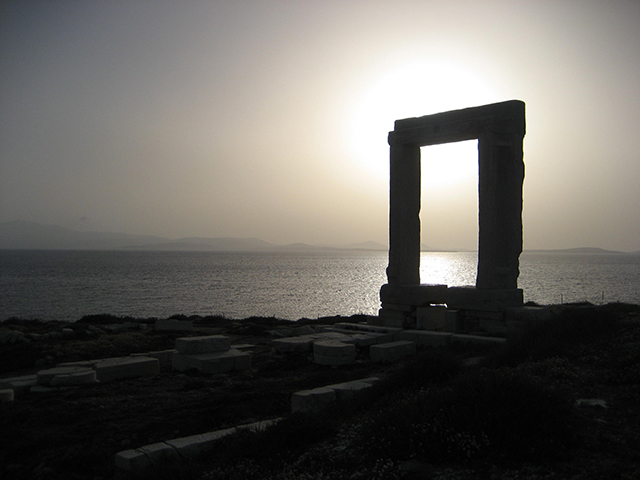 6. Naxos, Greece
It wouldn't be right to get through this entire list without including at least one shot of ancient ruins. This one, on the island of Naxos, features the Portara, a giant marble door that seemingly leads to nowhere. It faces the island of Delos, supposedly the birthplace of the god Apollo. The door is part of an unfinished temple, dedicated possibly to Apollo, or possibly to Dionysus  (who was worshipped on the island in ancient times). Either way, depending on which angle you view it from, the sun sets right between the pillars. It sits on a small island of its own, attached to the main island near Old Town by a causeway. It's an easy walk from the port, and the best place on the island to watch a sunset.
So that wraps up my top 6 best Mediterranean views! Of course I realize there are many places left off this list (it would probably take an entire book to cover all of them). And it was largely influenced by the places I have in fact visited, and therefore experienced first hand. Now it's your turn – any not-to-be-missed views you would like to add? Leave your contributions in the comments below, and I will promptly add them to my bucket list. Maybe we can all plan a group trip someday… rent a villa somewhere… sit outside sipping white wine and munching on fresh local cuisine. How fabulous does that sound?
♥
See what I mean? Gorgeous.
Please leave a comment or stop by Amy's blog and say hello. Have a great weekend!
~Deanna