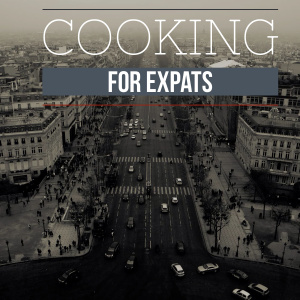 Welcome to a new series here on C2C! As I am getting more settled in my new home, I am rekindling my love for cooking. I have to admit, it has been really hard trying to improvise, find substitutions and convert measurements and temperatures in attempts to make "American" recipes here in Germany. I have had some help in this regard from Connie at FoodEssen, a lovely site you should also check out. To make this even a bit more difficult, we are a single income family so I also try to make things as budget friendly as possible.
That all being said, I thought I would share some of my "creations"  here with you. I am in no way claiming culinary perfection or creativity here, but thought these ideas might help someone else in my shoes. I know I searched high and low for things like this when I got here, not knowing even the basic of things. And while yes, I have a German husband, he works long hours and this responsibility is mine to learn. My biggest problem in sharing these with you is that I often don't measure ingredients, but cook by taste. I will do my best to nail down measurements in hopes that you enjoy these recipes as much as we do!
So, for this week, we will start with the basic of the basic: Bolognese Sauce. I have Italian heritage and let me tell you, I have been working on perfecting my homemade sauce for years…..and then I moved here AND got put on a strict budget. Here is a German-shopping, budget-friendly recipe.
INGREDIENTS
1 TBS EVOO (we use Sunflower oil, but olive oil is best)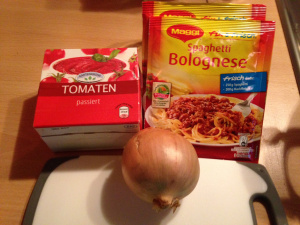 1 small yellow onion
300ml hot water
500g Tomaten Passiert (tomato puree)
400-500g ground beef (a pound is about 450g - we actually use "Hackfleisch gemischt" which is a mix of pork and beef so it's a bit less fat)
2 packages of Knorr or Maggi Quick Fix Spaghetti Bolognese
Salt & pepper
DIRECTIONS
Heat oil in medium-large pot over medium high heat.
Finely dice onion and saute for about 5 minutes.
Add meat and lightly season with salt and pepper. Brown meat and "chop" into small pieces. You can leave them larger if you like, but I like the meat ground pretty fine.
While meat is cooking, measure out 300ml of hot water and whisk in both seasoning packets.  
Once the meat is done, drain and rinse if you prefer. This particular meat doesn't leave much to drain so I don't, but I know many prefer to do so.
If you have drained the meat, put back in the pot and add the water mixture keeping the heat on medium high.
Then immediately add the tomato puree.
Stir together well and bring back to a low boil.
Turn down heat to low and let cook for a minimum of 20 minutes. I let mine cook for a minimum of one hour. I think cooking it that long really allows the flavors to come together with the meat being more tender and seasoned. But, this is optional.
Taste after about 15 minutes to see if you like the flavor. Add more tomato puree/water to have thinner sauce. You can also add a can of diced tomatoes or fresh tomatoes if you like them in your sauce.
Depending on how long you cook your sauce, start your making your pasta about 20 minutes before your are ready to eat.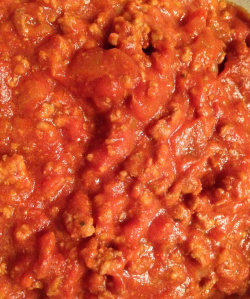 This sauce is thick and usually has enough leftovers for lunch the next day. I would also add some crushed red pepper if you like more spice to it, but I typically don't since that would be too much for my son.
Hope you enjoy it! If you make it, come back and let me know what you think! Or, if you have ideas for additions or changes, let me know!