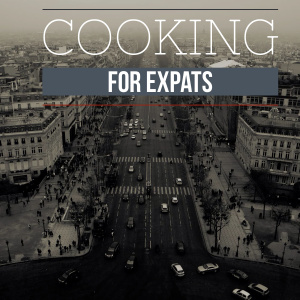 Welcome back to the Cooking for Expats series on C2C! I'm so glad you enjoyed the first segment last week and I'm looking forward to bringing you more budget and "Germany friendly" recipes. Also, Emma, from A Bavarian Sojourn, reached out to me last week as she is also going to be starting her "Expat Essentials" series today. We are contemplating a way to work together to make this even better for you guys! As she is an expat from the UK in Germany and I an American in Germany, we have hopes that this could be a great partnership.
If you have any ideas or anything you'd like to see, please share them with us!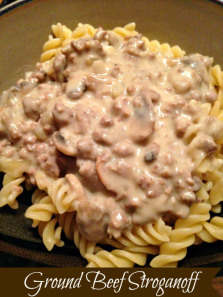 Ok, so let me get on with this week's recipe for Ground Beef Stroganoff. Let me just say again that I am by no means a culinary extraordinaire. I am simply taking "American" recipes and attempting to find or substitute the ingredients needed to make them here in Germany AND do it on a budget. This was my second time making this dish and my husband loved it so much that he asked me to make it again, even after eating leftovers the second day. This dish is also toddler-friendly and approved. My son loved it! And I should also mention that there is no "cream of" anything in this as is usually called for. As you know, you can't buy condensed cream soups here in Germany; at least not that I have been able to find. But, in all honesty, this tastes better, eliminates the salt and preservatives from the cream soup, and the items you need to substitute are ones you typically have on hand (flour, butter).
2 Tbs oil
1 small diced yellow onion
250g mushrooms (1/4 cup diced and the rest sliced)
50g butter
1/4 cup flour
3/4 cup milk
1/2 liter beef broth (fleisch brühe)
200g sour cream (sauer rahm)
450g ground beef (hackfleisch gemischt)
500g pasta (typically egg noodles, I used fusilli as I find it grabs the sauce better and easier for my kiddo)
salt and pepper
garlic clove - optional (I omitted because M hates garlic)
Prepare beef broth if using the cubes and set aside.
Heat the oil in a medium-sized skillet over medium-high heat.
Add

sliced

mushrooms and onions (as well as garlic if using). Saute for about 5 minutes.
While you saute the onions and mushrooms, melt the butter over medium heat in a saucepan.
Add ground beef to mushrooms and onions and lightly season with salt and pepper. Continue browning meat while making the sauce. The meat can be chopped finely or left in large pieces based on preference. Once the meat is cooked through, turn the heat on low to medium low depending on your stove top. The idea is to keep it warm while slowly carmelizing the onions.  Occasionally stir and continue to watch as you cook the sauce.
When butter has melted, add the

diced

mushrooms and saute until tender. (about 5-10 minutes)
Add flour to butter/mushrooms and whisk. If it's too thick, you will need to add more butter. It needs to be a thick liquid (see photo above).
Whisk milk into flour mixture and increase heat to medium high.
Whisk in 1 1/2 cups of beef broth. Keep the remaining broth for reserve as you can add this to your sauce if it starts to get too thick.
Bring sauce to a low boil, continuing to stir as sauce should start to thicken. If you're noticing that the sauce is not thickening, add flour 1 Tbs at a time.
Begin boiling water and cook pasta.
Once sauce starts to thicken, add your meat mixture making sure to scrape the onions and leftovers from the pan. Stir well and let cook on medium low for about 15 minutes. May need to add additional salt/pepper to taste.
Pour sauce over pasta!
Please let me know what you think and feel free to suggest ideas for recipes or ask any questions you may have! I hope you enjoy and if you make it, come back and tell me!
*Recipe adapted from The Country Cook and The Foodie Army Wife.