I didn't know it would happen, but moving to Germany the first time back in 2008 changed me. It changed me in a way I suppose I can never get back. I'm not sure I want to, but I know this new person has always felt a constant longing ever since. There is always a piece of my heart missing and I suppose there always will be.
****
I moved back to the states in 2010. When M joined me in 2011, I truly thought we would be there for several years. However, we hated it which was completely unexpected. Sure, we moved to the Midwest, which looking back I know was a mistake. I'm a West Coast girl and I longed for that kind of lifestyle. We did our best to make it work, but as you know the pieces of the puzzle just never fit.
We moved back to Germany.
And now, I still long for the West Coast. I miss my friends. I miss my family. We both love Las Vegas and we have the kind of friendships there that sometimes feels like only come around once in a lifetime.
But, I love Germany and the type of life my family and I can have here. There is so much security to be offered in a socialized government system. Life is more simple. Life is less stressful. Traditions are honored and maintained, such as Christmas. To experience Christmas here is like walking through a magic wonderland!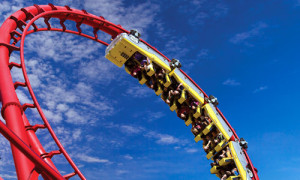 And so, the roller coaster of life goes on. You expect ups and downs in life. That's the nature of the beast. But for those of us who have two homes in two separate countries, our hearts are always divided. If we chose to live in Las Vegas, we would miss the best parts of Germany. By choosing to live here, we miss the best parts of Las Vegas. It feels like a no-win situation.
But in the end, you make a choice; the choice that you think is the best for your future and your family. It's not necessarily the one that's best for your heart.
For all of our family and friends back home, we chose this, but know it wasn't easy. We miss you being a part of our lives. We think of you always. We love you all .