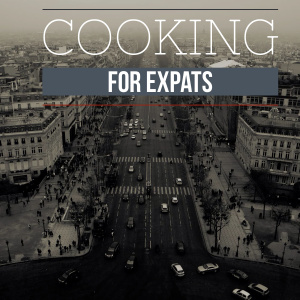 Welcome back to the Cooking for Expats series on C2C! I'm looking forward to bringing you more budget and "Germany friendly" recipes. Also, don't forget to check out Emma, from A Bavarian Sojourn, and her "Expat Essentials" series today.
Well, if you can believe it, today I actually have a chicken recipe! Shocking, I know! I initially planned to share vegetable soup, but I made this last night and it turned out SO GOOD. This is an excellent "expat recipe" because it's another that calls for condensed cream soup that I made myself. I have made versions of this before, but this one turned out the best by far. It's pretty versatile, so throughout you'll see where you can use other options. Also, don't let it scare you that it has a few steps. It's really very easy and you can do the cream soup ahead of time to make it easier. You would just need to add a little milk or chicken broth later if it's too thick. I also cook the chicken in the slow cooker because it makes for more flavorful tender chicken. Again, not necessary if you have a preferred method. You can also add green chiles when cooking the chicken or jalapenos to the casserole before cooking if you like it spicy. We would, but alas, not good for the boy. We clearly need to divide our meals in half for his portion and our spicy portions!
Make sure to read all the way through when preparing for this as the ingredients are listed for the total needed but used at different times in different amounts.
1 diced green bell pepper
1 diced yellow onion
1-2 TBS taco seasoning mix (I used about 1/3 of a seasoning packet)
300ml (plus another 3/4 cup to be used later)  chicken broth
1 can diced tomatoes with juice
50g unsalted butter
1/4 cup flour
1 1/4  cups of milk
shredded cheddar cheese (or cheese of your preference - I used the light Reibkase)
100g sour cream
450g cooked shredded chicken
tortilla chips
salt and pepper
1. Place cleaned chicken breasts, bell pepper, onion, taco seasoning, tomatoes, 300ml chicken broth in slow cooker for 4-5 hours on low. Stir every so often. When done, pour contents into a colander to strain out liquid. Let chicken cool so you can shred. Shred and set aside in a medium-sized bowl including the tomatoes, onions and bell peppers.
2. Preheat oven to 350F/178C. Lightly spray casserole dish with cooking spray.
3. Melt butter over medium heat.
4. Whisk in flour until smooth. Add 3/4 cup milk and 3/4 cup chicken brother. Stir until thickens. Add salt/pepper to taste. (I only added pepper).
5. Pour sauce into chicken mixture. Add remaining 1/2 cup of milk and sour cream. Mix well. You may add more taco seasoning or even just cumin at this point if you prefer. I didn't because my husband doesn't really like the strong flavor. *gasp*
6. Layer the bottom of casserole dish with crushed tortilla chips. Pour half of chicken mixture over chips and spread evenly. Add another layer of crushed chips and cover with remaining chicken mixture. Sprinkle the top with cheese.
7. Cover and bake for 25-30 minutes. I have a top-only heat,old sucky oven, so I ended up having to uncover and bake until the cheese browned on top which I think turned out better.
8. You can serve with shredded lettuce and diced tomatoes (optional).
Please let me know what you think and feel free to suggest ideas for recipes or ask any questions you may have! I hope you enjoy and if you make it, come back and tell me!
*recipe adapted from Key Ingredient