Happy Wednesday friends! I hope you are all enjoying your week. If you're having my kind of week, you're on your way to finishing a case bottle of wine so far this week. That being said let's take a look at last week….hmm….that one is not much better.
The United States begins a government shutdown resulting in closures of federal and public facilities which results in furloughs which results in a continued spiraling domino effect.
The company I used to work for (Indiana University Health) completed a planned lay off of 933 employees most of which came from the downtown Indianapolis area. I knew many of these people and several were colleagues.
A close friend of mine had a tragic incident with a family member.
That's just naming a few things which I think are significant enough without going on any further. My point is that last week sucked for many, many people. While these things did not necessarily impact me directly, it doesn't negate the fact that they affected me.
In lieu of all that seriousness, sometimes gratitude isn't enough. Sometimes you need humor. You need to find something to laugh at to relieve the stress or sadness. You need to remind yourself of the little things even more which brings me to this week's showcase of my five simple things.
For last week, I could sum up being thankful for one thing: military families. I am lucky enough to be acquainted with (hopefully becoming better friends with) some Americans who are stationed here with the military. They were kind enough to share with me a few items I can't get in Germany.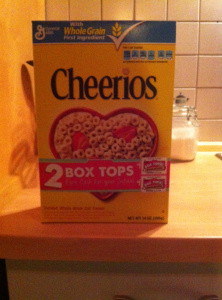 1. Cheerios. The monster loves these and I have to say, I do too. They sell some similar things here in Germany, but they are just not the same.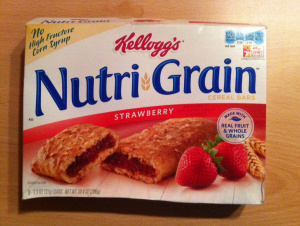 2. Cereal Bars. They have nothing like this in Germany. You can buy fruit bars or granola bars but not what we know as cereal bars. The monster loves these as well. Are you noticing a pattern yet?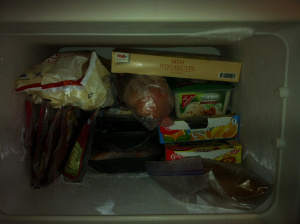 3. Turkey Bacon. Ok please forgive the horrible picture, but I thought while sharing that I have 5 packs of turkey bacon in my freezer, I could also show a typical German freezer. And how do you take a good photo of the inside of a freezer?? Yes, you can buy larger ones, but most are this size and many only have chest freezers in their basement. Anyway, back to bacon. Who doesn't love bacon? Yes, they also sell it here (speck) but it is very different. Plus, I like the lean version that turkey bacon has to offer. My favorite sandwich is a BLT. I could live off of these and I'm not kidding about that. I'm so happy there is bacon in my freezer that I almost can't eat it. ALMOST.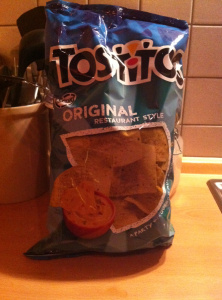 4. Tortilla Chips. Oh for the love of all that is holy, tortilla chips. I have missed you. Again, they sell these here too, but they taste like the fat-free baked version; a little like salted cardboard in my opinion. For the life of me I can't figure why they would taste different. I've heard it's the oil they use, but for whatever reason they do and it's another thing that just can't be substituted.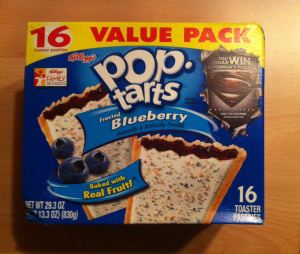 5. Pop Tarts. Well you know, what kind of American would I be if I didn't get some? Haha. Only kidding. I honestly wanted these for a "special" treat for the monster to give him to help ease the tantrums he has been throwing while out shopping. I do like them too, but it's something I could live without and they definitely aren't healthy in any way.
Those are just a few of the food items I miss from home. I am so thankful for being able to receive these. It is a wonderful treat and like I said, we are so excited that we are hoarding everything and almost afraid to eat it!
What are some food items or products you miss from home? What are you thankful for?